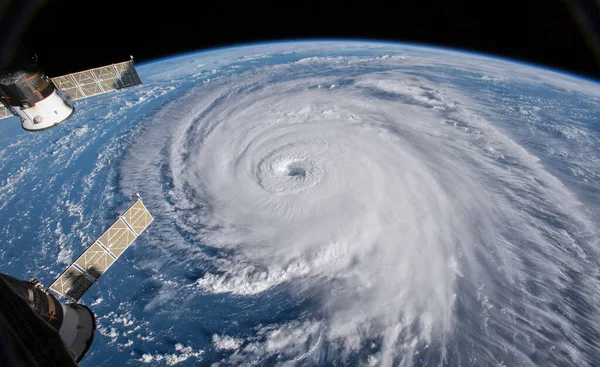 Hurricane Florence, September 2018
So far this year, America saw TWO and only TWO major hurricanes, going into October. That's in the vicinity of average. However, August of 2022 was a bit of a record =====>
First Fact: This is the first season in 25 years, where there was no named storm throughout the entire month of August. That doesn't sound much like a climate crisis.

If the Climate scenario of 2022 were as dire as the commercial media mouthpieces made it out to be, there would NOT have been a stormless August in the same 2022.
The irony is that, in July and August of the same year, the media was announcing that the world was literally on fire, due to the burning of fossil fuels. Well, the Cape Verdi Island section of Africa (directly east of Senegal) didn't get the memo. Hurricanes and tropical storms fell completely asleep while the world was "burning-up."
In addition, there is a sensible reason to explain why there were no storms in August of 2022. ANS: It's always due to STRONGER VERTICAL WIND SHEAR (which see.) Of course, it's also due to the vague-sounding "greater atmospheric stability."
Anyway, the dishonest media claimed that hurricanes are now rougher and now more frequent. Well, there were below-average years and above-average years of recent and of past. In fact, there was a 12 year period when no major hurricane made landfall in the United States. That went from the end of Wilma, in 2005, until the arrival of Hurricane Harvey, in August of 2017.
Since then, there was been a trend toward more named storms, but not the endless attack of major hurricanes, as is portrayed by media personnel who have no experience in atmospheric science. Actually, there are a bit more low-intensity storms called Tropical Storms.

The strongest Hurricane was not in this decade or in the last one. It occurred 42 years ago, when co2 was 340 parts per million, and therefore 76 ppm lower than today.

The strongest hurricane in known history was Hurricane Allen, in 1980 (Forty-two years ago --- a half a lifetime ago.) It's wind speed was 190 miles per hour (mph). This negates the claim that hurricanes are only now more furious than in decades past.
More Examples

The second most power hurricane is a four-way tie. Four hurricanes traveled at 185 mph. 1} The 1935 Labor Day Hurricane, when the atmospheric co2 level was 309 ppm and therefore 107 ppm lower than today. 2} Gilbert in 1988, when co2 levels were 350 ppm and therefore 66 ppm lower than today. 3} Dorian in 2019. 4} Wilma in 2005.
As further examples, there were 175 mph hurricanes as far back as 1932, 1955, 1969, 1977, & 1979. Plus, there were hurricanes of the same speed as recent as 2005, 2007, 2007, and 2017. All in all, the media is making it sound as if all of the most powerful hurricanes occurred in the past five to ten years, and that is a huge falsehood.
Here's another example: Below is a list of the most powerful hurricane seasons. The ACE column on the chart stands for Accumulated Cyclone Energy.
Now, as far as concerns the single most energy-filled hurricane in history (assessed by measuring wind speed every 6 hours) it was the 910 millibar Hurricane Ivan, in 2004. It killed 64 in the Caribbean and 25 in the United States.
But, as far as goes the most energy-filled hurricane seasons, they included the Years 1893, 1926, 1933, 1950, and 1961. That's 61 to 129 years ago. They also included recent years, as in 1998, 2004, 2005, and 2017. So, things come close enough to evening-out, when comparing the power of hurricane of old and hurricanes of new. That illustrates that there is NO immediate ocean-related climate crisis.

And remember, there recently was a 12 year period when NO MAJOR HURRICANE made landfall at any United States beach. (After Hurricane Wilma, in 2005, and until Hurricane Charley, in August of 2017.) Climate is cyclical, and it goes in trends.
As far as goes the claim that America has recently been plagued with hurricanes, let's review:

By the way, 2021 had 21 storms in all, with seven being hurricanes, 4 of which were Category 3 and higher. That was the year when Antarctica had its coldest winter known to science. None the less, 2021, 2020, & 2017 were significant tropical activity years, along with 2011, 2010, 2005, 1995, 1969, and 1933. The other years of the 21st Century were within the standard deviation of frequency. (2019 was only slightly above it.)

The Years 2011, 2010, & 2009 are missing from the list above. In as much, in 2011, there were 19 storms w/ 7 hurricanes, 4 of which were major. In 2010, there also were 19 storms. 12 were hurricanes. 5 were major. In 2009, there were only 9 storms w/ 3 hurricanes, 2 of which were major.
Now, the recent years of 2020 and 2017 were above average in the Major Hurricane Dept. But only the Year 2020 was above average in the total storm dept, with 30 storms (tropical storms, Cat 1 & 2 hurricanes, and major hurricanes combined.) And of course, there were only 2 major hurricanes in 2022, going into October, and 2 lesser speed hurricanes, with 9 storms in all. Climate has shown itself to be a cyclical roller coaster. Hot spells, cold spells, dry spells, wet spells, etc.
While we're here: The true ocean surface circulation are eddies.
When it comes to explaining to novices ocean circulation, a map like this one is presented. BTW, below you see the phrase, "DEEP COLD CURRENT." All deep currents are cold; 39F, in fact.
HOWEVER, this is the reality, compliments of NASA, in a much more localized photo. Take note of the very circular, gear-like eddies, especially toward the lower right hand side of this NASA photo. In fact, eddies border that Equatorial lane of ocean water, known as ENSO, aka the Equatorial El Nino /La Nina current.
You have been given 34 years of hyper-exaggeration, aka False-light disinformation. It hasn't ended. After all, Monsoon season is now being blamed on "the burning of fossil fuels." Yet, Monsoons have been a part of Climate all along, due to the fact that pressure systems rotate according to the Coriolis Effect, while seasons change from one type to the next one. And the season change is completely due to the tilt of the Earth, and NOT co2 levels or greenhouse gases of any kind. It's the tilt only. For example, a high pressure air mass on land and on see serves the role of gear turning clockwise, sending Gulf of Mexico water Northwest, to Arizona, Nevada, and Utah, constituting their Monsoon season.
The hype has to end. So, the next time a hurricane comes, be respectful enough for the dead to be buried and mourned, before giving your asinine conclusions about the cause of something which repeatedly brought intense destruction, even when atmospheric co2 was below 300 ppm. There is zero correlation between devastating hurricanes and co2 levels. Hurricanes do NOT discriminate according to co2 levels. A hurricane is an equal opportunity destroyer, no matter what be the year or what be the co2 level.